WHO WE ARE
Skyla Arts is a premier luxury bridal & event makeup & hair agency based in the Heart of Silicon Valley in Northern California, servicing clients from Carmel Valley to Napa Valley. Majority of our events are local to the Bay Area, and beyond local travel, we provide Destination services as well!
Established by Liz Chang in 2009, we have expanded into a fully operating Bridal Makeup & Hair Artist Agency since the 2013 season, and we currently represent 4 BIPOC artists: Liz Chang, Camille Monique , Jerilyn Dee (hair-only), & Tiffany Purdy.
With almost four decades of combined experience as beauty industry leaders, we are professionals who care deeply about our craft and fully committed to providing superb customer service.

WHY WE DO IT
The "look" and spark in our clients' eyes when they look in the mirror, seeing them love themselves, that small boost of confidence and joy, is priceless to us and the emotional reward we seek as service providers. Helping our clients feel radiant and seeing their bliss when they share their photos or videos with us is why we love our job; it is what motivates us to wake up at 4am to drive to the location with our heavy makeup and hair equipment. When we touch our clients' face/hair with our hands, we are invited into their intimate bubble through touch, and it is truly an honor to be invited to share our gifts with our clients on their most important occasions!
WHAT WE DO
We are here to collaborate with you for a timeless look to help you look & feel your best on your wedding day, so that 20 years later when you revisit your wedding photos and video keepsakes with your loved ones, what you will remember is the beautiful celebration of love and how happy you felt, because the last thing you have to worry about on your wedding day is your hair & makeup.
From the initial email, to the comprehensive consultation, and customized mood boards, to skin preparation & makeup/hair product selection for your wedding day, we are here to meet your unique needs.
On your wedding day, we will arrive with our kits and equipment to bring the luxury salon experience to the comforts of your hotel room or home! We will start with a relaxing & cooling eye-gel mask and apply deeply-hydrating serum to your skin while your hair sets.
Using an array of luxury and professional products, the preparation will proceed in a well-paced manner, making you feel pampered, with calm & peace to help you relax and preserve your energy for a busy & exciting celebration ahead!
Liz's Bio
Liz has been refining her artistic skills since the age of 5 when she won her first set of watercolor paints in a contest. In her fifth grade art class, she enjoyed drawing and painting portraits so much that her teacher suggested she try makeup and use the human face as the canvas. Growing up, she loved teaching others tricks of the trade and noticed the instant positive effect makeup application had on her peers. It is "the look" in her clients' eyes that say "I love the way I look!" that brings Liz satisfaction and inspires her to continue working in the beauty industry.
Outside of bridal work and running an events agency, Liz works on print & video advertisements and press and media junkets for movies, TV shows and the news. You can view her other portfolio here featuring advertising in print and film, beauty and celebrity gallery: ElizabethChangMakeup.com
A summa cum laude graduate from Occidental College and an Aveda trained licensed esthetician who has lived in 3 continents and 6 countries, Liz identifies as a citizen of Planet Earth. She is passionate about social justice, especially in education and women's issues, and aims to use her beauty techniques to help people achieve their goals. Liz believes in the importance of environmental responsibility; beauty is important, but not at the cost of our environment! Liz & her partner Bo, and their cats, Skyla & Lucio are happily growing their roots in Tokyo (starting 2022), along with their growing collection of electronics.
Camille's Bio
Camille Monique started her career as a retail and brand representative for Laura Mercier and MAC Cosmetics, but transitioned into bridal makeup & hair in 2008 and discovered her passion for beautifying brides on their special day. Based in San Jose, CA, Camille works out of our rental studioin Cupertino, CA for special occasions and bridal consultations, but travels to brides on their wedding day.

Camille also splits her time on-set doing commercial and advertising work, which helps Camille stay in tuned with what is classically beautiful, and currently trending. You can view her other portfolio here to see more of her advertising, beauty and celebrity work: CamilleMonique.com
Camille enjoys singing, cycling, and bourbon, and spending time with her family when she is not servicing beautifying brides & models on-set.
Jerilyn's Bio
Jerilyn Dee started her fascination with beauty by watching her mom apply makeup and playing dress up with wigs as a child. Her natural tendencies to experiment with the latest trends led her to pursue cosmetology and onto a career path in beauty. With her friends and family's support, Jerilyn jumped at the opportunity to pursue a career of providing clients with the best beauty experiences and making people feel good about themselves for any occasion.
Jerilyn is also a specialist in hair color, cut and styling, and has a great eye for detail. While also a dedicated and talented makeup artist, Jerilyn decided to focus on hair artistry in 2020. Based in Santa Clara, CA, Jerilyn works out of her studio in Cupertino, CA for special occasions, hair cut & color, bridal consultations, but travels to brides on their wedding day. You can book Jerilyn for her Salon Services here: Jerilyn Dee Hair
At Skyla Arts, Jerilyn is available for Bridal Hair-Only gigs, and Bridal Party Hair-Only gigs! Jerilyn enjoys spending time with her family and is proud mom of three amazing kids.
Joey's Bio
Joey started her career as a cosmetologist 20+ years ago in California, with a strong passion for hair, as well as makeup artistry. Having extensive experience working with all skin and hair types, Joey worked exclusively on events for a period time, before recently opening up her own hair and nail studio in Daly City where she imports specialty polish from Japan and Korea. Joey has worked with some of the biggest names in the wedding industry, and specializes in the timeless, classic beauty looks, but with modern Japanese and Korean cosmetic influences.
Based in South SF, Joey splits her time equally between her salon and wedding events!

Outside of her salon and the events industry, Joey is a devouted mother, sister and daughter, always taking care and cooking for her family. Joey also loves traveling with her loved ones.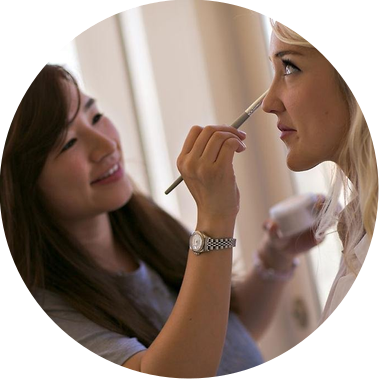 Rebecca's Bio
Rebecca started her career in makeup 10 years ago in Europe, where she attended the prestigious Academy of Freelance Makeup in London. She has worked for Nars Cosmetics, as well been on the makeup teams for various London and Milan Fashion weeks, honing her craft under that high-time pressure work environment. She expanded her skillset to include hairstyling after discovering her passion for bridal makeup and hair.
Originally from Romania, Rebecca immigrated to the Bay Area on her own for work opportunities. Rebecca is based in Sunnyvale, CA, and works out of our rental studio in Cupertino, and is open to traveling for destination weddings, having done destination weddings in London and Italy in the past!
Outside of beautifying brides, Rebecca loves exercising and body building for health and wellness, and enjoys traveling.